Copies of the Cohen book are available. Signed by author.

UK (second) edition : Hardback. French edition : Papberback.
UK edition is £12. French edition is 20 euros. Both includes P&P.
UK edition (its quite heavy) with overseas P&P is 25 euros.

Leonard Cohen - A remarkable life - Excerpt. Chapter 11. back on Boogie street.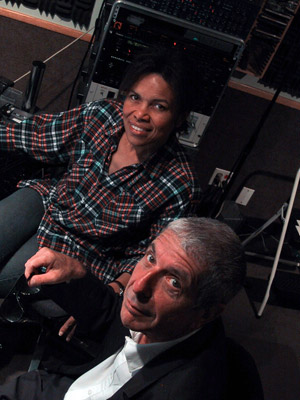 Throughout 1999 although still officially an enlisted 'spiritual marine' within the Mt Baldy regime, Cohen had nevertheless travelled extensively and had ended up honing the lyrics for what would be his next album to perfection at his house on Hydra. The actual recording of what would be Cohen's tenth studio album began in late 1999 although the official starting date was given as May, when shortly after attending one of Sharon Robinson's sons Piano recitals he and she reconvened at his LA duplex. 'The day that we embarked on the project' remembers Robinson, 'he invited me over to his place and we sat in his kitchen without speaking for a long time. He lit incense and he put on some chant music and we just sat there and meditated or something for a while. It was Leonard's way of setting up a tone or a headspace that we were going to be working from. That's how I see it in hindsight.' For Robinson ( herself a sometime follower of Roshi), such a scenario was not as alien as it may appear to the casual observer. 'We had been very close and had mediated together before that so it didn't strike me as terribly odd and I just said 'Ok, I'm gonna' go with this, I see what's happening'. Perhaps in some way this encounter was Cohen's version of a kind of cosmic 'job interview'. "Collaborations happen so rarely in my case," he pointed out and although Robinson was in effect available for a full length collaboration with Cohen when he came down from the mountain there was no absolute certainty that Cohen was even going to continue an active recording career and if he did, what form it would take.. "We didn't have an idea that there would be a record.' Said Cohen, 'We just wanted to get together and write some songs together, because the process has always been very peaceful, so we wrote one and then two and then three. She has an extraordinary penetration of my lyrics." Robinson confirms this 'Its not that we set out to make an album' she says, 'we just started working on things and it just happened'. Nevertheless it soon became apparent that both she and Cohen were involved in something major and crucial. Robinson's input would be profound; she would eventually produce, co arrange, co-write and sing on the album.

(A secondary, purely practical reason for Cohen's wish to defer much of the new album's recording, instrumentation and co-composition may have been because since leaving Mt Baldy officially in June he had also been involved in the overseeing and preparation of another album. For some time he'd wanted to release a document of his 1979 tour and he'd recently been listening through old sound board tapes and approving rough mixes from those very shows in anticipation of the release of this new live album. This was no real motivation though, surely. Ultimately Cohen proceeded in partnership with Robinson because it was this arrangement that served the work best at the time).

Meanwhile, on a day to day basis throughout late '99 and during the first days of a new millennium, Cohen was mostly preoccupied with the creation of a completely new work. Now living back in his LA Duplex that he shared with his daughter Lorca and her numerous pet dogs, Cohen had responded favourably to almost all of the demos that Robinson had built around the lyrics - often handwritten on A4 lines paper - that he had gifted her with. In some cases, as with 'A thousand kisses deep' Cohen's writing partner was not even aware that those lyrics already informed another completely different version of a song ; a song Cohen was now happy to discard. 'I didn't know there was another version of that' says Robinson surprised. (Cohen had gone as far as actually recording Demos of some songs while at the monastery but Robinson has no memory of hearing any). 'But after listening to my demos, he thought that that was what the actual finished record should sound like'. The decision to stick with the preliminary recordings was not a given choice - certainly not for a major label recording artist of Cohen's stature. Rather than halt their 'home' work and reconvene to a larger commercial studio with a band as might be expected, Cohen and Robinson took the brave and quietly audacious step of merely carrying on as they were. 'The way the album came about is linked to the actual sound of it' Robinson explains with a Zen like acuity ' the album had a unique path and it wasn't done the way an album is normally done. It was also recorded pretty much in the order that it plays in. For instance, the last song on the album is the last song we wrote together'. Asides from Cohen and Robinson few other musicians would be present on the album. In fact the sole cameo was limited exclusively to Bob Metzger's electric guitar spot on In my secret life. But even this solitary outside contribution arguably sounded somewhat intrusive within the stylised and hermetically sealed perfection of the eventual album. The heart of the work seemed to envelop itself around the invisible gossamer arc that threaded directly between the sampled beats and Cohen's lushly ruined voice. Indeed, there were hints throughout the record that musically Cohen had gone what had once been termed 'Trip-hop'. Not that he himself would have used such an ephemeral phrase. His musical interests and vocabulary were still rooted in the classics. 'We had several models in the back of our minds when we were working on the music' he said. 'A slow R&B song may be referred for In my secret life, a country song might be referred to for That don't make it junk, the model of a protest folk song might be referred to for land of plenty'. Whatever the terminology used to inform and describe the album, the result would be a strangely sub marine sounding work that sounded less like the work of a duo and more like the result of two halves of the same whole exploring some psychic sea bed together. 'Leonard and I were working extremely closely during that time' affirms Robinson '(engineer) Leanne (Ungar) was involved but basically Leonard was pushing everybody else out of his life during the period of time we were working. So this was his idea and it was his choice about how to get this thing done; it was how he wanted this to work'. One may have expected that on coming down from a - no matter how sociable - mountainside Monastery, Cohen would have wanted to surround himself with a big old style Jazz band for his new album. Then again, being centred on community living, his time at the 'retreat' had encouraged anything but solitude. In many respects there was no distinct line between Mt Baldy, Mumbai and LA for Cohen; essentially his practice continued wherever he was during whatever he was doing. 'The recording was some kind of extension of his time at Mt Baldy' confirms Robinson. 'He was still very reclusive during this time…he wasn't interacting a lot with other people and this was very intentional. He was totally focussed on the record'. Such focus would endure over the coming two years during a process where Robinson's meticulous attention to detail would mirror Cohen's famously painstaking work aesthetic toward the actual songs. (In this case, with Robinson providing all of the music, his craftsmanship would have presumably been limited to honing the lyrics and their metre alone although Cohen did apparently offer the occasional melodic idea). The resultant insular and almost womb like feel of the album's sound was down to one very good reason ; much of it was recorded in Robinson's three car garage that was adjoined to her house. 'I turned it into a studio space' (subsequently called Small mercies studios') she laughs 'but it did used to be a garage! And I'd record the basic raw audio there and I'd take it over on hard drive (a portable Cheetah 10,000 Seagate device) to Leonard's studio where we'd work on sounds and arrangements…we'd tweak things basically and he would also, ultimately work on his vocals there.' Cohen's set up was similar to Robinson's except that Cohen's space was above the garage. (And Christened Still Life studio). A rough mix of Robinson's tracks, confirms Leanne Ungar, were '…put onto two tracks of (Leonard's) 8 track Tascam tape, the other 6 left for Leonard's vocals'. Ungar showed Leonard how to operate the appropriate machinery and once he'd got the hang of it, she left him to his own devices. This simple, ergonomic and economically efficient set up suited Cohen's particular state of mind at the time. 'The record was created in very relaxed conditions, because it was made in the study above the garage' he'd recall, 'I would rise early to record it because I like to work before the birds begin singing and the dogs start barking and the traffic noise becomes unbearable. I was used to rising at two or three o'clock in the morning and I worked dressed only in my underclothes, in very calm and pleasant circumstances. For that reason, it was much easier to complete than my previous records.' It was also, of course, cheaper. And while Cohen's home studio was well equipped it was definitely not acoustically sound compared to professional recording environments. '…occasionally Leonard would forget to turn off the Jacuzzi that is adjacent to the studio' remembered Ungar, whose job it would then be to remove such unwanted ambience from the recordings. The team of three approached the writing and recording of the album via various positions. 'Sometimes Leonard would play me a Casio beat that he wanted the song to start with' explains Robinson who would then modify and expand on the pattern via Midi and pro -tools, often replacing each exact drum part - Snare, Hi-hat, Tom - individually. 'If he had a musical direction that he wanted to start with Then I would come back and construct a track around that or if he didn't have a specific idea I'd come up with the idea myself'. When working in unison the two would typically begin the day at noon until around seven in the evening although like Cohen, when she worked alone Robinson could also begin very early and go on until very late. As the recordings progressed, Robinson and Cohen would pause periodically to consider the possibility of bringing in live musicians to replace or augment certain synthesized parts. But when it came to it, Cohen reneged on the idea. 'At a certain point' says Robinson, 'he felt that it might ruin something good that we had. He's a big fan of not spoiling what you have already by trying to buff it to perfection. Additionally, he liked the consistency of the record that we had and didn't want to spoil that by bringing in additional musicians'. Cohen and Robinson were also aware of the almost infinite possibilities such working methods presented but when faced with an initial drum loop or beat, Cohen employed the Jack Kerouac (Buddhist) school of thinking ; 'First though, best thought'. Although working in such a low- fi, manner was nothing new (Beck had perhaps popularised the home made ethic most notably with his debut album in the mid 90's ( and coincidentally Beck's Stepfather - the string arranger David Campbell had contributed to The future - would also score one song on the current album)) such a method was usually exclusively reserved for upcoming bedroom based musicians and the like purely because they couldn't afford sufficient time to record anywhere else. In Cohen's case he was still signed to Columbia/Sony with to date, 12 million CD sales alone. Subsequently he had a healthy financial nest egg in the bank that amounted to millions (or so Cohen believed) and thus such a home- made approach was both quixotic and audacious. (That said, Springsteen had released two full length studio albums recorded in his garage - 1982's sublime Nebraska and the 1995's Ghost of Tom Joad'). Despite adopting a recording method much more familiar with much younger musicians, the obvious advantage Cohen had over his lo- fi contempories was two- fold. Cohen was working with two strong and experienced colleagues (This was Ungar's Sixth album with Cohen and Robinson was a Grammy award winning songwriter for a start) and he was by now in possession of one of the most unique 'singing' voices ever. Not only did Cohen's lyrics have an almost biblical like gravity and a weight of conviction to them that was almost physical but he now also had the perfect instrument to get behind such words. There was no doubting the sheer heavy currency and authenticity of Cohen's 'singing' voice, however it was captured. It would have sounded God like on one's answering machine. Next to the exquisitely recorded albeit obviously synthetic music, the power of such a voice using these particular words, along with the muscular precision of the songs themselves made for a beguilingly odd and powerful mix. Simply put, very few recording artists of Cohen's experience and means had ever recorded an album in such a relatively inexpensive manner before, because they simply didn't have to and thus it hadn't occurred for them to do so. (Along with Springsteen Tom Waits had dabbled on the frontiers of such a maverick recording practice). Those young bucks like Beck who had recorded albums in their garage did not have the life experience that Cohen had. Thus, Ten new songs, as the album would come to be called was both unique amongst Cohen's catalogue and as an album in itself. 'This was something that Leonard talked about' says Robinson, 'And something that he wanted to preserve. That contrast between the electronic thing that I was bringing and his very natural and rich voice - although he would never describe it that way. It was the human quality versus the electronic. He really was enjoying that contrast and it was something he wanted to keep'. The album was also the first Cohen release to be recorded completely digitally. But it was unique amongst the Cohen canon for another reason too. While all of his albums had featured female voices in counterpoint and harmony to his own, this work would feature Robinson's expensive sounding soulful sheen alone. 'That was something that came out of my demoing the songs first' she explains. 'I would initially sing and play everything, at the time not knowing if we were bringing in other musicians or singers. Of course as it turned out, we didn't so my voice stayed because Leonard liked what he was hearing.' She did not feel daunted by her multi tasking on what in addition some were now considering to be Cohen's 'Come back' album. 'Leanne (Ungar) was of course there and at times we had two studios running at the same time. We got into a routine where I'd be writing a song while she and Leonard were over at his studio lining up tracks or working on the technical aspect of something we'd already finished. The three of us became a little factory I guess you could say'. Robinson usually put down her vocals first, sometimes using up to 20 tracks to do so, with Cohen singing 'on top' (or perhaps 'underneath' is a more accurate description) afterward. This was a role reversal in the way vocals were usually recorded on Cohen albums although sometimes he would in turn mute Robinson's voice and sing alone. He was still using a German microphone but by now it was the vintage model Neumann 87. Having trained himself in the rare art of getting up early back at Mt Baldy, Cohen not only had no problem recording his vocals in the pre -dawn hours but relished it. 'It was very relaxed at those times' he said'…to come in and find the right place to stand or sit and have the right drink or smoke in your hand lean back, go back, erase , go forward. It was a very luxurious way to do vocals'. Cohen explained that he was concerned with finding the right mood in which to sing each song because his aim was to have the voice represent the song rather than just reveal it. 'He does a few takes to get the attitude he wants' explains Robinson. He was also aiming for a certain neutrality of sound, allowing the listener as much freedom as possible. He wanted it to have '…an agreeable groove…you can lean on it, relax into it. There are doors and windows you can enter if you have the time…' Once Cohen's vocals were completed they would be transferred by Ungar from his own set up to the more expansive and advanced computer system at Robinson's garage. At no point during the process did Robinson herself ever question the lyrics she was presented with and had to sing. 'I always considered it an honour to be working with him' she states. 'Wherever he is as an artist that's really his choice ; its not there for me to critique ; as a voice on his albums I'm there to be subservient to his voice'. In fact, Sharon's vocals on the album are at least if not more dominant - in terms of parts sung and individual tracks - than Cohen's own vocals. Some critics remarked that it sounded more like a Sharon Robinson album with Cohen guesting. The producer herself does not agree with this diagnosis adding that 'I'm just honoured to be a part of it'.

It was now early 2001 and with all the recorded parts deemed complete it was time to mix the components into a whole. Initially the team attempted to transpose the digital tracks to Analogue tape and mix in a regular commercial studio but they were immediately unhappy with the initial results and so soon regrouped back at Cohen's studio where the mixing of the entire album - incorporating the balance and EQing of scores upon scores of individual tracks - was completed in three weeks. The finished whole was then sent to Bob Ludwig's gateway mastering studios in Portland Maine where the album was mastered to CD and Vinyl editions. Despite the fact that this was Cohen's first new album since 1992 and despite the fact that sonically the record was untypical and therefore at 'risk' in a notoriously competitive marketplace Columbia/Sony were apparently very happy with the finished album. 'They loved it' confirms Robinson. Their belief in Cohen and his new work would be borne out by the worldwide marketing they would put behind ten new songs. But first there was a little exercise in the raising of public awareness. To some among the greater masses Cohen was by now purely a mythical figure; beyond both the good and the dead but hardly relevant. With the release of Field commander Cohen, a gentle and classy reminder would be sent out to the public prior to the new album both because Cohen wanted it so and because it wouldn't hurt his sleeping audience to be reminded as to what they'd been missing the last decade.

Field commander…